DPC News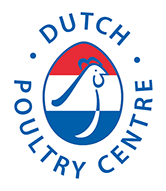 On 27 and 28 April there will be the Oman food safety and quality management fair and conference. During the conference Mr. Jan Hulzebosch of the Dutch Poultry Centre will present what Dutch companies have to offer to Oman and Middle East countries on the area of food safety and sustainability on poultry production. If you want to attend this online event a free visitors pass is available on : https://omanfoodsafety.com/visitor-registrations.html The Dutch Poultry Centre presentation will be on 27 April 2:15 till 2:30 PM Oman time (12.15 - 12.30 Dutch time).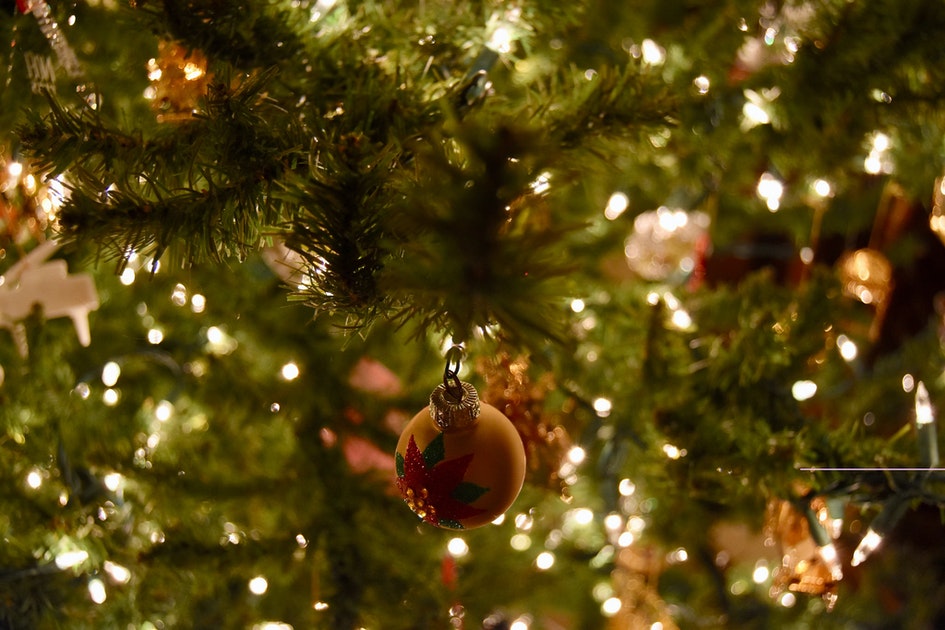 Dear partners and friends!

We hope you and your loved ones are safe and healthy in these uncertain times.
The pandemic year 2020 has shown us what we can bear.
May the coming year remove all this negative energy and enlighten our lives.
We wish you wonderful end of the year festivities and a fantastic 2021.

Merry Christmas and Happy New Year!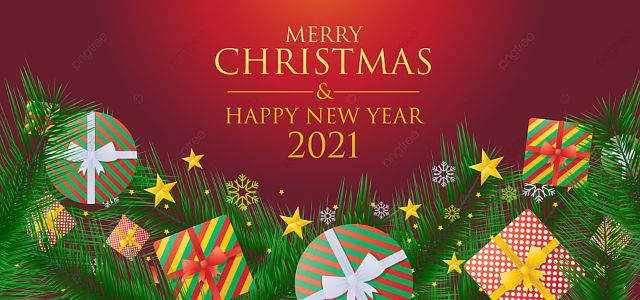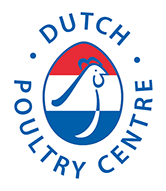 500 exhibitors are ready to share their solutions, services and knowledge with you: created in China or developed for China. In addition, there is an impressive line-up of conferences: major topics like Animal Waste Treatment, Integration and Branding, the Belt & Road Forum and Sustainable Aquaculture Development are scheduled between September 17 and 19.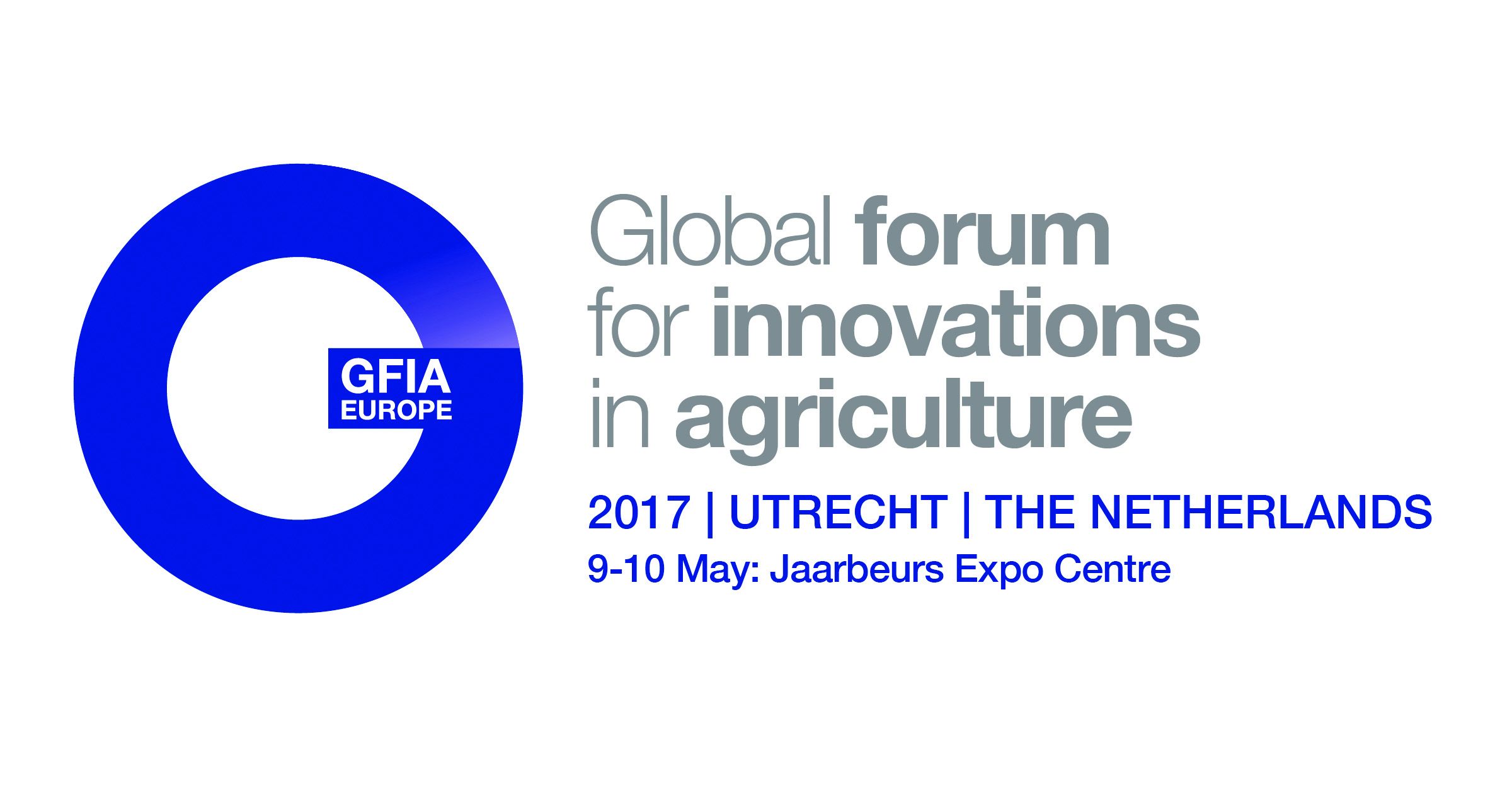 Whether you want to improve productivity, increase profits or overcome the challenges of climate change, find hundreds of working products at GFIA Europe to help your business remain competitive and sustainable for the long-term. Supported by an international network of 40+ partners, the Global Forum for Innovations in Agriculture is the world's most influential series of events dedicated to sustainable agtech across all types of food production.
The exhibition is free to attend and Dutch Poultry Centre members can obtain a 25% discount on conference tickets by using this link: https://www.databadge.net/gfia2017/reg/?card=52000174
Event name:      GFIA Europe - Global Forum for Innovations in Agriculture
Dates:                  9-10 May 2017
Venue:                 Jaarbeurs Expo Centre, Utrecht, Netherlands
Email:                  This email address is being protected from spambots. You need JavaScript enabled to view it.
Website:             www.gfiaeurope.com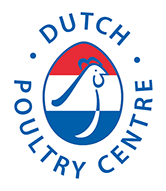 The Kingdom of The Netherlands, the Topsector Agri & Food, Dutch Poultry Centre, GMW and FME would like to invite you to visit a Holland Network Cocktail at VIV Asia 2017!
Date & Place  

15 March 2017
17.30 - 19.30 hrs

Bangkok International Trade & Exhibition Centre
Hall 98, VIV Square Utrecht 
Bangkok, Thailand

With this evening we would like to promote Dutch companies who are active in the food & agri sector in Asia Pacific and worldwide! The Holland Network Cocktail is a great opportunity to expand your network with other companies, entrepreneurs and trade promotion organizations in the region.

Participation is free, but registration is required.
http://fd2.formdesk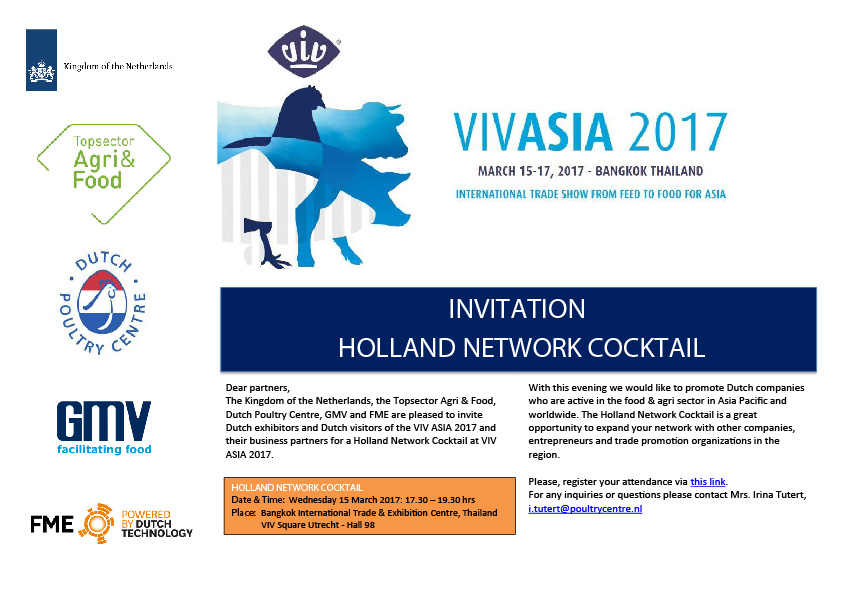 .com/dutchpoultrycentre/vivasia2017