Heering
Solutions for the transport of day-old chicks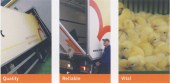 You want to be satisified with the quantity oÍ chicks you transport. But you also want your
customers to be satisÍied with chick quality on delivery and post-delivery. Successful transport results in:
Minimizing your risk
Poor transport conditions can have a direct impact on potential perÍormance.
Corresponding failure costs are not always directly and fully visible. Heering identifies your exact needs to define a tailor'made solution to make your transport safer, more efficient and more cost-eÍfective.Together we minimize risk.
Maximizing your transport performance
Managing transportin volves more than just buying transport equipment. Choosing the right solution based on your climate conditions, road conditions and service needs will make your transport rquipment:
Working with a service provider
Although our equipment is designed for low maintenance costs and minimum downtime, we do invest a lot in service and supoort. For long-term economic returns you need a partner that can guarantee you long-term support: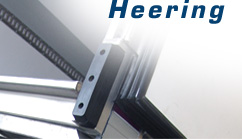 We provide you peace of mind
Our core business is to offer successful transport solutions. At Heering, we have more than 100 years oÍ expertise in this field.
We are much more than just another manuÍacture. Our service team assists with maintenance, our trainers educate your drivers and we even analyze your processes to improve the performance of your transport.

For more information, visit http://www.heering.nl/