Royal Pas Reform
The future of hatchery 
technologies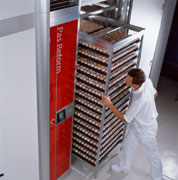 Pas Reform produces inventive incubators with contemporary design and the latest technology. The organization may essentially be a machine builder, Pas Reform knows exactly what happens in the egg. The requirements of the embryo are very subtle, Pas Reform knows through its own research and collaborations with several university faculties. The growth curve and the metabolism of the embryo are subject to change due to genetic selection. This requires customized breeding programmes. Pas Reform has geared its hatching machines to this.
Management of the hatching process
A sophisticated air treatment system ensures a constant supply of clean air. Moreover, the hatching machine allows complete control over air humidity and temperature. Unique to the machines made by Pas Reform is their division into separate compartments. The climate can therefore be regulated for each individual section. In that way, you have almost all the variables under your control to help you produce a uniform flock of one-day chicks. Other examples of the intelligent design of the hatching machine are the user-friendly control panel and large viewing windows, so the users do not have to open the doors at each inspection.
Advice from senior breeding specialists
Pas Reform gladly helps hatcheries to achieve the perfect combination between craftmanship and technology. The senior breeding specialists of Pas Reform help breeders all over the world to improve the quality of their hatching processes. And while doing so, Pas Reform looks further than just the machines. In their recommendations the specialists take the business management context into account, such as logistics and yield.