Nijhuis Industries
Postbus 44
7000 AA  Doetinchem
Netherlands
+31 314 749000
info@nijhuisindustries.com
Nijhuis Industries
The value of water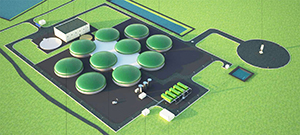 In the coming years, people and companies will increasingly become aware of the value of water and wastewater. It is a scarce commodity that, when (re)used sparingly, creates economic and sustainable advantages. Nijhuis is responding to the increasing demand for innovative and sustainable solutions for the use of water and wastewater at the lowest operating costs. In addition, the highly experienced process technologists and engineers are continually searching for the best solution to purify water, recover raw materials and, at the same time, meet the increasingly stringent environmental requirements.
Total solutions worldwide
Nijhuis Industries is an innovative knowledge company that frequently integrates its own products and technologies into total solutions. The global company has 2400 references in more than 50 countries in America, Europe and Asia. Companies like Moypark, Tyson, Cargill, Agrosuper, Fakieh, Araso, Mironovsky, Vion, Padley's, Prioskolye and Charoen Pokphand are among its customers. Through the own branches in the Netherlands, Poland, Russia, Indonesia, USA, Colombia and China plus the network of more than 40 certified partners, Nijhuis Water Technology helps its customers meet the required environmental demands and to create value from water and wastewater.