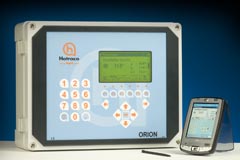 Hotraco, the abbreviation of Horster Trading Company, was founded in 1974 by Mr Chris Beelen and still is a family business. It has been the market leader in the field of development and production of measuring and control systems for many years. From its origins, the company has focused on the agricultural sector. Activities for industrial automation and for automation of buildings were soon added to this.
Stable systems for perfection
Today the company has far reaching branches, with export activities far from the Netherlands. Hotraco Agri, one of the five companies in the Hotraco Group, remains an important branch with its total automation solutions for climate control, feed control, water control, drying and storage systems as well as cleaning machines. Egg counters, animal scales and fire protection are also part of the assortment.
24/7 available, worldwide
Hotraco works with a network of professional dealers. In addition, a telephone helpdesk can be reached 24/7. Client systems can be inspected anywhere in the world by means of modern ICT technology. The broad assortment with its own engineering, hardware and software makes the company unique. In addition to the product range under Hotraco's own name, a significant part of its sales is made via so-called original equipment factories. Hotraco supplies to about 30 of these private labels worldwide.